DJOKOVIC IS HIGHEST PAID TENNIS PLAYER OF ALL TIME
Novak Djokovic stunned to earn the tag: Highest Paid Tennis Player of All-Time.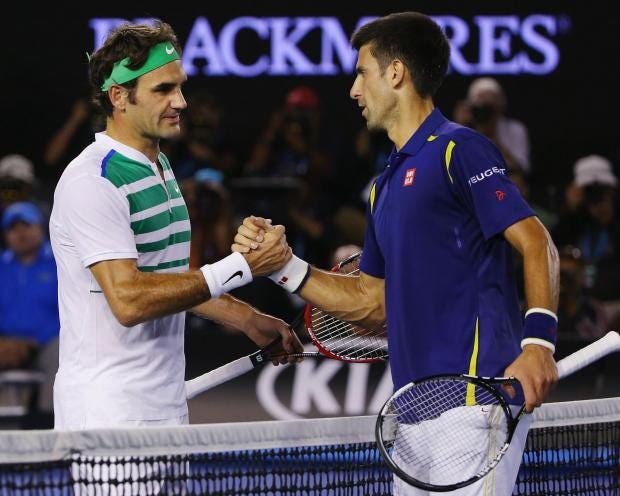 He defeated the popular face and expected name: Roger Federer in overall earnings, according to reports. The 12-time Majors champ pales less compared to Federer's 19. However, the Serbian has earned $109.8 million in on-court earnings, narrowly piping Federer who has earned $107.8 million.RafaNadal's 16 Grand Slam helps in place third on the standings with $86.2 million.

The disparity in male and female tennis sees Serena Williams, with 23 Grand Slams, places fourth with $84.4 million while Andy Murray makes the top five with $60.8 million. And then the disparity widens; considerably too.

Tennis legend Pete Sampras' earnings help him take the sixth spot with $43.2 million, Venus Williams has earned $37.9 million, WTA topshot Maria Sharapova has earned $36.5 million, Andre Agassi, who is now coaching Djokovic, is ninth with $31.1 million while David Ferrer earned $30.6 million.

Stan Wawrinka, Victoria Azarenka, Tomas Berdych, AgnieszkaRadwanska, Boris Becker, Kim Clijsters, Caroline Wozniacki, Martina Hingis, Yevgeny Kafelnikov and Svetlana Kuznetsovamaje the top 20.

While on-court earnings provide consistent and stable cheques for the players, many top stars earn many times tournaments winners' fee through endorsement, promotion and sponsorship deals. Federer for example earns way over $50 million in sponsorship deals a year. For the 12th straight year, he was crowned the highest paid player in tennis after earning $64 million from June 2016 to June 2017, according to Forbes. The 36-year old has numerous top brands competing for his signature with him smiling regularly to the bank.